What's New in 2023?
| | | | |
| --- | --- | --- | --- |
| Member Since | Name | Years of Service | Div/Bureau |
| January 2023 | Percy Mather | 23 | Water |
| January 2023 | Nasrin Mohajerani | | |
| January 2023 | Steve Ugoretz | 32 | Water |
| February 2023 | Mark Martin | 41 | ER |
February 2023
Mark Martin retired from the WDNR in 2011 after a 41-year career. He was hired by Chuck Pils in 1971 and worked with the Farm Wildlife Research group on research projects including red foxes, ring-necked pheasants, red-tailed hawks, great horned owls, bob-white quail and deer. He also worked with Gene Woehler on prairie restoration.

In 1982, Mark was hired by Cliff Germain to work with the Scientific Areas Program, now the State Natural Areas program in Endangered Resources. Duties included land management, land acquisition, grant writing and facility development projects.

Mark and his wife, Susan have been involved with Madison Audubon's Goose Pond Sanctuary near Arlington since 1979 when they became the resident managers. Goose Pond Sanctuary totals 730 acres and they work with two other staff on prairie restoration, land protection, citizen science projects and giving tours. The Martin's also have a cabin near Rio and manage 160 acres of wildlife habitat.
January 2023
Steve Ugoretz like many other retired conservationists, Steve began his career in the Water Grants program in 1980. It was a good entry point at the time, with a lot of good people running it. He worked on the state and federal wastewater treatment facilities grant programs, including support for environmental impact analyses of those projects. That background got him into the Bureau of Environmental Impact where he specialized in major infrastructure projects. That led to coordinating EISs on power plants, transmission lines and pipelines.

Steve also specialized in the impact of alternative technologies like renewable energy. When wind turbine impacts on birds and bats became an issue, he represented state resource management agencies in national and regional efforts to evaluate and respond. This included membership on the National Wind Coordinating Committee's wildlife and siting working groups. Those stakeholder groups helped to set research priorites and ran workshops to present and apply the findings to the practice of wind facility siting. He also worked on the implications of placing artificial reefs and other "incidental habitat" in the Great Lakes, as well as offshore wind farm siting.

Later, he helped represent the DNR on a stakeholder group revising the power plant siting process at the Pubic Service Commission. Steve also served as the DNR's coordinator for joint power plant and transmission line and gas line projects with PSC as lead agency.

Steve retired in 2012, during the Walker/Stepp years. These days he tries to help Trout Unlimited with habitat restoration projects when able. He also support other environmental organizations who are helping to restore and preserve our natural environment.

These days are devoted to home improvement projects, fishing, travel (when the plague allows) and helping raise a granddaughter. He's been married to the same woman since 1982, and plans to continue that way for the foreseeable future.
Kunstman, Audrey June (Brekke)
VERONA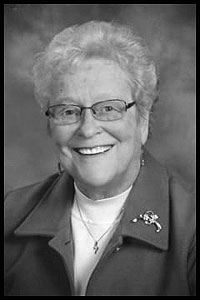 Audrey June (Brekke) Kunstman passed away peacefully on January 27, 2023. She was born on June 21,1929 to Lars and Borghild Brekke and grew up on a farm near Deerfield and graduated from Deerfield High School. In 1947 she met Bob Kunstman, a young Navy vet, at a dance at Edwards Park and they later married on July 6, 1947. They settled in Verona and started their family. As the kids grew, Audrey worked at the Associated Physicians Verona office, and later for the Wisconsin DNR for 25+ years.

Audrey and Bob had several places on Lake Wisconsin, eventually retiring to a home in Merrimac, then moving to a condo in Okee. They were avid boaters and snowmobilers, and had friends who were very close for many years. The stories of their antics will live on for years. Many laughs and lots of love. Audrey was a fabulous cook and welcoming hostess who loved to entertain. She was a woman of strong faith who was very active in her church until her health started to decline. She sang in the St James choir for many years. She was a member of the 8 O'Clock Callers, a circle of close friends who played euchre every month for 70 years, and was also a member of the American Legion Auxiliary for 75 years. Audrey and Bob were married for 60 years. After his passing, she developed a close friendship with Keith Simmons and they had many wonderful times and travels together. Audrey was a proud Norwegian and enjoyed two trips back to Norway to reconnect with relatives there. Her last trip back was shared with her daughter and granddaughter, and they made memories that would last a lifetime.

She was our mother, Granny, and Great-Granny, our matriarch, a kind and loving lady. She is survived by her son, Tom (Vikki) Kunstman, daughter Karen (Vince) Weiland, grandchildren Erin (Derrick) Ellefson, Ben (Vicky) Weiland, and Jonathan (April) Kunstman. She is further survived by great grandchildren Mackenzie, Teagan, Mason, Xander, Lilliana, Torsten and Audrey Jean. She is also survived by several nephews and a niece.

She was preceded in death by her parents, siblings Dale and Marian, husband Bob, special friend Keith, and granddaughter Lisa Marie.

The family would like to send special thanks to Dr. Amy Fothergill and the nursing staff at Associated Physicians, and to Ingleside and Agrace Hospice for the kind and heartfelt care given to Mom in her final days.

In lieu of flowers, the family requests memorials be made to St. James Lutheran Church, Agrace Hospice, 5395 E. Cheryl Parkway, Madison, Wi 53711, American Legion Auxiliary, Unit 385, 205 Thompson Street, Verona 53593, or a charity of your choice.

Her funeral service will be held at 11:00 AM on Saturday, February 4, 2023 at St. James Lutheran Church, 427 S. Main Street, Verona. A visitation will be held from 9:30 AM until time of service on Saturday at the church.

Mange tusen takk, Mom. Skol, Audrey!


Ryan Funeral Home & Cremation Services
Verona Chapel
220 Enterprise Drive
608-845-6625
Zitske, Bonnie Lee
SUN PRAIRIE
Bonnie Lee Zitske passed away peacefully at home after a courageous battle with cancer on Jan. 10, 2023.

She was born on Sept. 20, 1942, in Madison, Wis. She was a 1960 graduate of Madison Central High School and worked for the State of Wisconsin for over 40 years. At DNR, Bonnie worked in the Water Division.

Bonnie was a force to all that knew her with her inquisitive mind, caring nature, and independent spirit. You could always count on finding her cozied up in her sunroom with a good book, cuddling with her beloved cat, Izzy. She cherished her many lunches with her friend, Karen, as well as the Sun Prairie ladies.

The family is so thankful that she was surrounded by her loved ones in her last hours and she was able to meet her great-grandson for the first time. We will forever remember her with the smile that graced her face in those moments.

Bonnie is survived by two children, Tracy (Dan) Goodman and Mike (Rachelle) Zitske; her four grandchildren, Cameron and Kara Goodman, Alex (Haley) Zitske and Samantha (Danny) Zitske, their mother, Wendi Zitske; and two great-grandchildren.

The family would like to thank Agrace Hospice for their guidance and endless support.

A family celebration of life will be held at a later date. We are honoring Bonnie's wishes and no services will be held.

Online condolences may be made at www.gundersonfh.com


Gunderson East
Funeral & Cremation Care
5203 Monona Drive
(608) 221-5420