What's New in 2023?
| | | | |
| --- | --- | --- | --- |
| Member Since | Name | Years of Service | Div/Bureau |
| January 2023 | Percy Mather | 23 | Water |
| January 2023 | Nasrin Mohajerani | | |
| January 2023 | Steve Ugoretz | 32 | Water |
| February 2023 | Mark Martin | 41 | ER |
Bill Volkert and the Horicon Marsh
Bill Volkert, retired naturalist from the Horicon Marsh, presents a very comprehensive history of the Horicon Marsh.
Starting with pre-settlement and following it's long history you will be amazed with the events that produced the Marsh as we know it today' in 2023!
Marshall Ruegger - Volunteer Extraordinaire
Marshall Ruegger, retired WDNR Forestry, has been volunreering the last few years at the Historium located in Mt Horeb.
See the video about his life leading to Mt Horeb and the 31,471 page commuity project he has been involved with at the Historium.
Retirees are GREAT volunteers, using with their time available and the varied interests they have. There are many orgabizations waiting for you too just make that first contact with them!
Gilner, Duane "Gilly" C.
WISCONSIN DELLS

Duane "Gilly" C. Gilner, age 91, of Wisconsin Dells, WI, left for his final fishing trip on Friday, September 1, 2023.
Duane was born on June 17, 1932 in Tomah, WI; the son of Arnim and Adeline (Hagen) Gilner. After graduating Tomah High School in 1950, Duane enlisted in the Navy and was sent to Korea on the USS Paricutin. He served until 1954. After an honorable discharge Duane returned to Tomah and married his "friend" Delores Pilner in 1955.
Duane would tell you all he wanted out of life was to own a bar and drive a Cadillac. He got to do both, owning Duane's Sand Bar on Eddy Street, several Cadillacs and so much more.
Duane hunted and fished extensively and together he and Delores traveled the entire US and Canada.
Duane worked for the DNR for 54 years (sometimes being "Smokey the Bear" in parades and classroom visits) until he retired in 1996. During those years, in the off season, he built fire and radio towers and maintained runs and equipment at Christmas Mountain. After retirement he continued working for the DNR as a limited term employee, until the state decided that an 80-year-old probably shouldn't be driving a tractor around forest fires. His final "retirement" was from the Travelmart in 2021, at age 89, but only because his van gave out. If you needed a hand with anything Duane was happy to help.
Duane is survived by his wife of 68 years, Delores; sons: Rocky and Randy (Sherrie) Gilner; and daughter, Angie (Paul) Gilner-Scott. He is also survived by his grandchildren: Andrew, Riley, Eli and Eva; and his sister, Laurie Kopenhafer and many nieces and nephews.
He is preceded in death by his parents; and brother-in-law, John Kopenhafer.
Per Duane's request, there are no services planned.
The Picha Funeral Home and Crematory of Wisconsin Dells, WI, assisted the family with arrangements.
For On-Line condolences and information, go to
www.pichafuneralhome.com
Maltbey, Larry Lee
RHINELANDER
Larry Lee Maltbey, age 85, died on July 18, 2023, in Rhinelander with his wife and children at his side. Larry was born in Shawano, WI on May 23, 1938, to the late John and Luella (Rosenow) Maltbey. He attended Shawano High School and, while there, he was the consummate student athlete participating in Football, Basketball, and Baseball, and Choir. Larry was the captain of the 1956 WIAA State Basketball Championship team, and as a result of his exploits, is a member of the Shawano High School Athletic Hall of Fame. Upon graduation from high school, Larry attended the University of Wisconsin at Stevens Point and played basketball there as well, participating in the national championship tournament in Kansas City. Almost 70 years ago, a nervous freshman in high school asked a junior boy to the Sadie Hawkins dance. One thing led to another, and in 1960, Larry married his high school sweetheart, Viola (Twin) Vigue. They enjoyed 63 years of marriage together.

After college, Larry went to work in Chicago for 2 years for the Food and Drug Administration. Desiring the quieter lifestyle, Larry and Twin returned to Wisconsin, and shortly thereafter, he went to work in Wisconsin Rapids for what became the Wisconsin Department of Natural Resources. After some department restructuring, Larry was transferred to the Rhinelander DNR office where he worked as a Water Biologist and remained there until retiring in 1996. Larry was always known as a very avid hunter, fisherman, and outdoorsman. Even as a young boy, Larry would often be found on the banks of the Wolf River fishing for catfish, walleyes, or anything else that dared take his bait. He hunted caribou in Quebec, fished for steelhead trout and halibut in Alaska, and bagged many deer and turkey in Wisconsin and Montana. Larry's wildlife trophy case was very full. And because they did everything together, Twin was often by his side for those trips. Larry was also a gifted woodworker, and when he was at home, more often than not, he was out in his shop creating a new piece of beautiful furniture for somebody else to enjoy. He took great pride in his work, and he couldn't wait to see the smiles on the faces of the people he made items for.

Larry's faith in the Lord was his rock, and he leaned hard on his faith for his entire life. He always knew that God was by his side, guiding him through his life journey. He instilled that sense of faith of God into his family members as well. Larry's love of his family was rich and endless. His love and generosity toward each and every family member was obvious, overt, and knew no bounds. Larry was also a friend to many, and he thoroughly enjoyed talking and laughing with anyone he had known his entire life, or even those he had met for the first time. If you knew Larry at all, you liked Larry a lot.

The family is very thankful for the love, compassion, and caring for Larry that was expressed by friends and acquaintances over the last few years. Additionally, the entire family wishes to extend their sincere thanks to the staff at Grace Lodge in Rhinelander, and the Compassus Hospice Care team for their outstanding attention and care that they provided for Larry.

In addition to Viola, Larry is survived by his sister Virginia (Ginny Prei), and his four daughters Lynn (Craig) Hatleback, Karen (Greg) Harvey, Deanna Nelson (Jim Hein), and Jodi (Gary) Van Pay. He has 10 surviving grandchildren including Eric (Allison) Hatleback, Scott Hatleback Jennifer (Ryan) Pittsley, Brad (Kaylee) Harvey, Mandy (John) Hein, Jesse Nelson (Josh Willis), Rachel Nelson (Dirk Sturm), Becky (Nick) Selig, Joshua Van Pay, and Courtney Van Pay. He is furthered survived by his 11 great-grandchildren Lana, Harlow, Alexis, Evan, Ella, Lucy, Ivan, Emry, Morgan, Maya, and Theo. Larry was preceded in death by his parents, his brother Duane, and a grandson, Cody Van Pay.

Visitation for Larry is set for Thursday, July 27, 2023, from 10:00 AM to 12:00 PM, with a Mass of Christian Burial following at 12:00 PM, all at the Nativity of Our Lord Catholic Church. Father Chris Kemp will be officiating. A memorial is being established in Larry's name and any gifts may be directed to his family. You may also leave your private condolences for the Maltbey family at www.carlsonfh.com. The Carlson Funeral Home (715-369-1414) is serving the Maltbey family.
Schultz, William Philip
RHINELANDER
William P Schultz, age 70, of Rhinelander, Wisconsin died on June 19, 2023, at his home, with his family at his side. He was born in Rhinelander, the son of Charles and Fern (Phillipsen) Schultz. He attended schools in Rhinelander graduating from the Rhinelander High School in 1971. He then went on to the University of Wisconsin-Madison and graduated with a degree in Engineering. Shortly thereafter he passed the test to become a Professional Engineer.

Bill started his career as the City Engineer for Oconomowoc, Wisconsin. He then joined the firm of Rice and Orth Engineering in Appleton. After a number of years he moved to Philadelphia and worked with Hart Engineering in closing out a super fund site. After the completion of that project he went to work as an Instrumentation Engineer at the Byron Nuclear Plant just outside of Rockford, Illinois and then for the Marble Hill Nuclear plant in northern Indiana as a structural engineer. His dream was to get back to Wisconsin and he accomplished that when he joined the Wisconsin DNR as an Enviromental Engineer in Madison and eventually Rhinelander. He retired in 2010.

Bill had many interests outside of work. He was a huge Wisconsin sports fan of the Badgers and the Green Bay Packers. His greatest joy came from the many hunting and fishing trips with his Dad and Brothers. They fished and hunted all over North America, from Panama to the Artic Circle and from the Atlantic Ocean to the Pacific, and many places in between.

Bill is survived by his brother James (Terri) Schultz, his niece Laura Schultz, his grand niece Sydney Schultz and his grand nephew James Hagen. He was preceded in death by his parents and his brother Charles.

Visitation for Bill will be held on Monday, June 26, 2023 from 10:00 AM to 12:30 PM at the Carlson Funeral Home. Interment will be in the Oak Hill Cemetery in Neenah, Wisconsin on Tuesday, June 27, 2023. A complete notice will follow here and in the River News.

You may leave your private condolences for the Schultz family at www.carlsonfh.com.
Alsteen, Cletus
GREEN LAKE
Cletus Alsteen, of Green Lake, WI, formerly of Lena, WI, passed away at his home unexpectedly on Thursday, May 25, 2023, at the age of 71. He was born on May 12, 1952 in Oconto Falls, WI, a son of Leland and Viola (Rimple) Alsteen.

Cletus proudly served his country in the United States Army during the Vietnam Era. He attended UW Green Bay and after 4 years, earned his bachelor's degree in Biology. Putting his degree to good use, Cletus worked in natural resources as a game warden for 21 years.Cletus was an outdoorsman who enjoyed fishing and hunting. He loved his dogs, his garden, his hasta plants, tending to his fruit trees and sharing his harvest with his neighbors. He was actively involved with the American Legion Post 306 of Green Lake.

Those left behind to cherish his memory include his 3 sisters, Elaine Dorvinen of Green Bay, WI, Yvonne (Donald) Brault of Peshtigo, WI, Linda Jacobini of Hamilton, VA; brother, Milton (Kathy) Alsteen of Little Suamico, WI; brother-in-law, Alvin Strom of Oconto; his lady friend, Kathy Soberg of Green Lake; nieces, nephews, other great nephews and nieces; especially Emma, Izzy, Olivia which Cletus thought the world of; other relatives and friends. He was preceded in death by his parents, Leland and Viola Alsteen; sister, Sandra Strom; brother, Dean Alsteen; 2 brothers-in-law, Larry Dorvinen, David Jacobini.

A celebration of life for Cletus Alsteen will be held on Sunday, July 23, 2023, from 10:00 a.m. to 11:30 a.m., at the American Legion Post #306, 518 Water St., in Green Lake, WI, with full military honors at 11:30 a.m. In true Cletus fashion, casual attire is requested. Please visit our website www.wachholzandsons.com to send a condolence or to share a memory of Cletus with his family.

The family of Cletus Alsteen would like to extend a heartfelt thank you to the Green Lake County Sheriffs Dept, Sheriff Podoll, and to Cletus' neighbor, Bruce, for all the help they provided during these trying times.


Wachholz and Sons Funeral Home
Sunset Cremation Center in Princeton
Serving the Family, 920-295-6631
Reinert, Dennis G.
SHAWANO
Dennis G. Reinert, age 95, passed away peacefully on Friday May 19, 2023, at Birch Hill Healthcare Center surrounded by his loving wife of 71 years, Bernice (Ashenbrenner) Reinert and his children, Denice (Reinert) Waldhuetter from Menomonee Falls, WI and David Reinert from Portland, OR. Dennis was born on May 5, 1928, to the late George and Verna (Lotto) Reinert, in Shawano County. Dennis grew up in Tilleda. He graduated from Bowler High School where he was a popular young man that earned him the honor of being crowned prom king by his student body. Dennis was always an adventurous individual and lived a life of adventure and intrigue.

It all started when he and a good friend decided to hitchhike out west where he landed a job with the US Forest Service in beautiful Coeur d' Alene, ID, where he was hired as head chef for a 65-man fire camp. Dennis returned to Wisconsin and married the love of his life Bernice Ashenbrenner, on September 29, 1951, where his love of Coeur d' Alene found him bringing his new wife to dwell in the magnificent vistas. Dennis and Bernice moved to Green Bay where he went to Barber school and upon graduation worked at the El Franz as a barber for ten years.

Dennis's love of the outdoors led him to take an interest in the Department of Natural Resources, where he had an extraordinary career in forestry. He worked in six different counties in Wisconsin, advising farmers across the state in field drainage and timber stand improvements. Dennis was blessed with a beautiful voice and shared his talent by singing for numerous weddings, anniversaries and social events, while Bernice often accompanied him on the keyboard. Dennis also sang with the choir at Holy Martyrs of Gorcum in Green Bay and even cultivated his love of music as a member of the Baylander Barbershop Chorus and the renowned and internationally recognized traveling Barbershop Quartet, the Bay 90's.

Dennis was fond of his Holy Martyrs Parish and spent every summer preparing Booyah for the annual parish picnic. Dennis and Bernice retired to Minocqua and lived on Booth Lake. While residing in Minocqua, he was actively involved with the Forest Riders Snowmobile Club and groomed trails for the enjoyment of the vacationers that flocked to the area of pristine prisms of powdery snow. He was an active member of the Minocqua Men's Club where he thoroughly enjoyed telling his stories of adventure and intrigue. Dennis and Bernice made their final home in Shawano to be near their family and friends.

Dennis leaves behind the love of his life Bernice Reinert; his two adopted children, Denice Waldhuetter of Menomonee Falls, WI and David Reinert from Portland, OR; his former son-in-law, Dave Waldhuetter; his grandchildren, Dylan (Courtney), Daniel, Ryan, Brandon (Vanessa), Jenna (Andrew), Arielle and Charlie (Andrea); his great-grandchildren Kaydence Reinert, Taylor Reinert, Otto Reinert and Arlo Reinert, all of Portland OR; his siblings, Vernon (Donna) Reinert of Lino Lakes, MN and Georgiann "Cookie" (Gary) Vander Velden of Crivitz. He is further survived by numerous nieces, nephews, other relatives and friends.

Dennis is preceded in death by his parents George and Verna Reinert and his siblings, Llewellyn "Lew" Reinert and Kay Mallory.

Those that knew Dennis would speak of his strong work ethic and a man who experienced a myriad of adventures and experiences that left stories that were told and enjoyed by all. Many that rivaled those of Tom Sawyer. We'll forever go on telling those stories and reminiscing about a man who lived an amazing livelihood. We will forever miss this man of many titles: husband, father, brother, granddaddy, great-granddaddy, uncle and friend. There is no doubt that heaven welcomed a true music man into the kingdom who was no doubt singing the Green Green Grass of Home as he met his Savior and God.

A memorial mass for Dennis will be held at 11:00 am on Friday June 2, 2023, at St. Francis Solanus Catholic Church in Gresham, with Fr. Tim Machila officiating. Visitation will begin on Friday at the church at 10:00 am until the time of service. Burial will be at St. Francis Catholic Cemetery.
Kulhanek, Dennis
MADISON
Dennis left this world on April 27, 2023, to be with his beloved wife, Lou. Dennis was born in Broken Bow, NE, on December 2, 1937, to his late parents Maurice and Winifred Kulhanek.

Dennis and Lou met while hiking along the Elkhorn River near his boyhood hometown, Nickerson, NE. They were joined in marriage on September 5, 1957, and later moved to Fort Collins, CO, where Dennis attended Colorado State University. Dennis earned a degree in Forestry.

They later moved to Blue Mounds, WI, and later to Madison, WI, where Dennis worked for the Wisconsin Department of Natural Resources in Park Planning. During his 37 years with the DNR, Dennis was responsible for assisting in the design and development of some of the most popular Wisconsin state parks.

Dennis and Lou were blessed with four children: Kurt (Doris) Kulhanek - Medford, OR, Craig (Judy) Kulhanek - Wisconsin Rapids, WI, Kristy (Joe) Gudgeon - Cedar Falls, IA, and Kathy (Kurt) Schubert - Madison, WI; and 11 special grandchildren.

Dennis was preceded in death by his dear wife Lou; and his parents, Maurice and Winifred.

During their years together, Dennis and Lou shared many wonderful vacations, often spent hiking in many beautiful National Parks.

A funeral service will be held on Friday, May 5, 2023, at 12:00 PM at Cress Funeral Home, 3610 Speedway Road in Madison. A visitation will take place one hour prior. Interment will immediately follow at Forrest Hill Cemetery in Madison.

Please share your memories at www.cressfuneralservice.com


Cress Funeral & Cremation Service
3610 Speedway Road Madison
(608) 238-3434
Amundson, James G.
MADISON
James G. Amundson, age 91 of Verona, passed away on Monday, April 24, 2023. He was born in Winona, Minnesota, the son of Alfred and Lillian Amundson of Arcadia, Wisconsin.

Jim grew up in Arcadia where he graduated from high school as the youngest in 1949's class. He was on the honor roll and active in football, basketball, and baseball. He attended Winona State University and at the age of 19 was hired by the Wisconsin Conservation Department in Forest Protection. He worked at the Ranger stations in Tomah and Fairchild. In 1955 he became a Conservation Warden which was his boyhood dream. His permanent stations were in Waukesha and Rock counties. He retired in Janesville in 1987 after 35 years of employment in what is now the DNR. He was a Master Mason and a nine-year member of the Wisconsin National Guard. Jim enjoyed fishing, duck hunting and gardening. His favorite spots were the Mississippi River and the Great Lakes. He took many Canadian fishing trips. After retirement he spent a lot of his time at the 50-acre hideaway in Crawford County where he built a cabin and sheds. He did most of the building work himself.

Jim is survived by his beloved wife of 50 years, Olga, his daughters Janet, and Susan, and by his sister Barbara Reedy, niece Lindy Kreibich, and nephews Tom Reedy, David Reedy and Greg Reedy, as well as his nephew Libor Novácek and niece Mirka Novácková.

He was preceded in death by his parents and also by his best loving companions and work partners of 28 years, Copper and Koko, his Golden retriever and Chesapeake Bay retriever. As per Jim's wishes, there will be no funeral. Burial will be in Milton Lawns Cemetery, Janesville. In lieu of flowers or charitable donations, friends are invited to honor Jim with a simple principle that was close to his heart: "Do unto others as you would have them do unto you. "

To view and sign this guestbook, please visit: www.ryanfuneralservice.com


Ryan Funeral Home & Cremation Services
Verona Chapel
220 Enterprise Drive
608-845-6625


West Central District Retirees
Front row left to right: Bruce Moss, Kim Mello, Pat Kaiser, Mike Foy, Tim Andryk, John Dunn, Don Bates, Bob Mickelson, and Terry Valen.
Back row left to right: Tom Hansen, Eldon McClaury, Mark Anderson, David Gjestson, Dave Linderud, Jim Keir, Ed Frank, Doug Fendry, Bill Ishmael, Jon Bronson (BRF warden behind Bill), Tom Nigus, Jim March, and Tom Hauge.
Former West Central District personnel have held a get together of DNR retirees for several years and recently met at the country club in Black River Falls.
The event coordinator is Dave Linderud who said the order of business is simply talking among friends. The event has proven so popular that a second event is scheduled for August 23 and will feature the wild game culinary expertise of John Kubisiak who has provided his special talents for countless events over the past 40 years!
Retirees interested in attending the August event should contact Dave Linderud at
mdlinder@nelson-tel.net
Saiki, Jeanne Kawamura
MADISON
Jeanne Kawamura Saiki passed away peacefully on March 22, 2023, in her room at Oakwood Village Lutheran Home, University Woods Campus, Madison, WI.

She was born on September 30, 1921, in Honolulu. The youngest of eight siblings to Daizo Kawamura and Natsu Iwamoto Kawamura. While in Honolulu, she witnessed the bombing of Pearl Harbor at the onset of World War II.

After graduating from Farrington High School in 1939, she attended the University of Hawaii and graduated in 1943, with a Bachelor of Arts Degree in Sociology, with a minor in Psychology. She then attended the Philadelphia School of Occupational Therapy at the University of Pennsylvania, and became a registered Occupational Therapist in 1948.

She was employed as an Occupational Therapist at Queen's Hospital in Honolulu from September 1948 - January 1951, and at the University of Wisconsin Cerebral Palsy Clinic from April 1951 – June 1954.

Jeanne married Toshio Saiki of Honolulu, on January 13, 1951, in Madison, and Madison would become her home for the duration of her life. After raising three children full time, she took on a variety of part - and full-time jobs. These included time as a nature guide at the University of Wisconsin Arboretum, a library assistant at the Wisconsin State Journal, librarian at the Madison Press Connection, and as part-time in the front office for Bureau of Parks and Recreation, Wisconsin Departmant of Natural Resources.

She also tutored Japanese language, and tutored Hmong students that attended Henry David Thoreau school in Madison, to help them with their English.

She would have told you that probably her most rewarding job was her time spent at the Madison Press Connection.

Jeanne loved gardening, playing her piano, and doing her daily sudoku. While living at Oakwood, she took drawing classes, ukulele class, and was a member of the Oakwood choir.

She was preceded in death by her parents, her seven siblings, her loving husband Toshio, and beloved dogs Candy and Beau. She is survived by a son and daughter-in-law in Madison, a son in San Clemente, CA, and a daughter in San Leandro, CA.

In lieu of flowers, memorials may be made to the Dane County Humane Society, 5132 Voges Road, Madison, WI, 53718, (608) 838-0413.

A private service will be held at a later date. Please share your memories at www.cressfuneralservice.com.

"When grace is joined with wrinkles, it is adorable. There is an unspeakable dawn in happy old age." - Victor Hugo


Cress Funeral & Cremation Service
3610 Speedway Road Madison
(608) 238-3434
Brick, Ed
MADISON
Ed Brick died on February 15, 2023, at the age of 87. He lost his beloved wife, Lois, eight months earlier, and although he soldiered on as best he could, he ultimately concluded that life without her was not worth living. He decided to let his congestive heart failure take its natural course and end his grief and loneliness.

Ed was born August 19, 1935, in Evanston, IL, to Edmund and Frederica Brick.The family moved around the country, until they settled in Green Bay. Ed graduated from Green Bay West High School, did a stint in the US Army, serving in the Corps of Engineers in Germany, and received a BS in Civil Engineering from the UW-Madison. He was a member of the inaugural class of the UW Water Resources Management MS program, completing his degree in 1966.

Ed's career centered around the protection of Wisconsin's water resources, working for the UW Extension, the Wisconsin Public Service Commission, and the Wisconsin Department of Natural Resources (DNR). He was an authority of Wisconsin water law, and a fierce defender of the people's rights in Wisconsin's navigable waters. He was especially proud of the contribution he made to the creation of the television documentary "Champions of the Public Trust," a collaboration between the DNR and Wisconsin Public Television. He was equally proud of his efforts to secure the election of Senator Paul Oscar Husting to the Wisconsin Conservation Hall of Fame. Husting successfully led the charge to preserve the Public Trust Doctrine in state law in 1910, and Ed was passionate about honoring Husting's accomplishment. On family canoes trips on the lower Wisconsin River, Ed was always guaranteed to hold forth volubly on how we were exercising rights that were guaranteed to us by the Northwest Ordinance of 1787, and embodied in the Wisconsin Constitution.

Ed had many opinions, which he shared freely, without discrimination. His curiosity led him down many paths: paleolithic rock art, the possibility of using Lake Winnebago rough fish to make artificial crab meat, and the economic and environmental benefits of rotational grazing were but a few of his enthusiasms. After retirement, Ed gave voice to some of these enthusiasms in an occasional column for the Belleville Recorder.

Ed married Lois Dart in 1962, to whom he was fiercely devoted. They shared many interests including prairies, travel, opera, sheepshead, cribbage, downhill skiing, tennis and the Friday fish fry at Borland's in Belleville. They were especially proud of the prairie restoration at their home near Paoli; the annual burn was a family affair, something they both looked forward to. Taking in the last show of the season at American Players Theater was a beloved tradition for Lois and Ed. Multi-generational ski trips to the Colorado Rockies and Michigan's Upper Peninsula are memories that all of us will treasure.

Ed is survived by three children: Steve Brick (Linda), Sarah Brick (Joe Shutack) and Sue Reddan (John). Grandchildren include: Maggie Brickerman (David), Alex Brick, Emma Lusis (Al), Jack Reddan and Sophia Reddan. Great-grandchildren: Mae and Arthur Brickerman and Jasper Lusis round out the clan. Ed is also survived by his sister, Susan Griggs (Jack); his brother, Tom Brick (Barbara); and many nieces and nephews.

We will miss Ed, but we won't forget him. He burned his motto into our brains: "Seldom right; never in doubt."

The family would like to thank the staff at All Saints for their diligent and compassionate care along with the staff at Agrace Hospice, who made his final days comfortable.

In lieu of flowers, the family suggests donations to The Prairie Enthusiasts (https:/theprairieenthusiasts.orgonate/); or Agrace (https:/www.agrace.orgonateonate-today/).

Please share your memories at


Cress Funeral Service
3610 Speedway Rd.
Madison, WI 53705
608-238-3434

Schlesser, Roger A.
MOUNT HOREB
Roger Adolph Schlesser, age 70, of Mount Horeb, passed away after a brief illness on Feb. 16, 2023, with his loving wife by his side.

Roger was born to Adolph and Florence (Bohlinger) Schlesser in Winona, Minn. He was a graduate of Arcadia High School in Arcadia, Wis., and furthered his studies at UW-Stevens Point with an emphasis on environmental studies and natural resources.

Always an outdoorsman, Roger worked for Wisconsin Department of Natural Resources as an aquatic biologist. He enjoyed all seasons of fishing, especially open water, and ice fishing. Hunting small and large game were among his passions.

Roger was a huge part of many organizations such as Groundswell Conservancy, the Civil War Battlefield Trust, the Getty Foundation, the National Wildlife Federation, Boys Town, and the Red Wing Pottery Collectors Society.

Roger treasured his Red Wing Pottery collection and enjoyed the hunt for large crocks and butter churns with unique markings. He spent much time collecting antiques of other varieties, as well.

Roger met Cheryl on a blind date over 40 years ago and the two were married on June 4, 1983, in Edgerton, Wis.

Roger is survived by his wife, Cheryl Wille-Schlesser; siblings, Mary Stirn-Hillert (Don) and their blended family, James (Carol), Jeffrey (Ann), Tamara, Joseph Stirn (Claire Ryan) and Teresa (Ed) Venner, Sharon (Bill) Sullivan and sons, Joshua (Elle) and Luke (Alicia), Daryl (Marlene) Schlesser and family, Nancy (Bob) LeBlanc, Brian (Mollie) and Michael (Tina) and Naomi; his brothers-in-law, Russ Wille (Jodi Bennetts) and their daughters, Chelsi Wille with Avery, Brianna (Dan) Haughom with Owen and Eric (Teresa) Wille and their children, Courtney and Kyle. He is further survived by great-nieces and nephews. He was preceded in death by his parents.

A celebration of Roger's life is being planned for the Summer of 2023 at Governor Dodge State Park.

Donations in Roger's memory may be made to the Groundswell Conservancy, 303 S. Paterson St., Suite 6, Madison, WI 53703 or to the National Wildlife Federation, (www.nwf.org).

The family would like to offer their heartfelt gratitude to the staff of SSM Health and Agrace HospiceCare. Online condolences may be made at


Gunderson Camacho Mount Horeb
Funeral & Cremation Care
500 N. Eighth St.
608) 437-5077
February 2023
Mark Martin retired from the WDNR in 2011 after a 41-year career. He was hired by Chuck Pils in 1971 and worked with the Farm Wildlife Research group on research projects including red foxes, ring-necked pheasants, red-tailed hawks, great horned owls, bob-white quail and deer. He also worked with Gene Woehler on prairie restoration.

In 1982, Mark was hired by Cliff Germain to work with the Scientific Areas Program, now the State Natural Areas program in Endangered Resources. Duties included land management, land acquisition, grant writing and facility development projects.

Mark and his wife, Susan have been involved with Madison Audubon's Goose Pond Sanctuary near Arlington since 1979 when they became the resident managers. Goose Pond Sanctuary totals 730 acres and they work with two other staff on prairie restoration, land protection, citizen science projects and giving tours. The Martin's also have a cabin near Rio and manage 730 acres of wildlife habitat.
January 2023
Steve Ugoretz like many other retired conservationists, Steve began his career in the Water Grants program in 1980. It was a good entry point at the time, with a lot of good people running it. He worked on the state and federal wastewater treatment facilities grant programs, including support for environmental impact analyses of those projects. That background got him into the Bureau of Environmental Impact where he specialized in major infrastructure projects. That led to coordinating EISs on power plants, transmission lines and pipelines.

Steve also specialized in the impact of alternative technologies like renewable energy. When wind turbine impacts on birds and bats became an issue, he represented state resource management agencies in national and regional efforts to evaluate and respond. This included membership on the National Wind Coordinating Committee's wildlife and siting working groups. Those stakeholder groups helped to set research priorites and ran workshops to present and apply the findings to the practice of wind facility siting. He also worked on the implications of placing artificial reefs and other "incidental habitat" in the Great Lakes, as well as offshore wind farm siting.

Later, he helped represent the DNR on a stakeholder group revising the power plant siting process at the Pubic Service Commission. Steve also served as the DNR's coordinator for joint power plant and transmission line and gas line projects with PSC as lead agency.

Steve retired in 2012, during the Walker/Stepp years. These days he tries to help Trout Unlimited with habitat restoration projects when able. He also support other environmental organizations who are helping to restore and preserve our natural environment.

These days are devoted to home improvement projects, fishing, travel (when the plague allows) and helping raise a granddaughter. He's been married to the same woman since 1982, and plans to continue that way for the foreseeable future.
Kunstman, Audrey June (Brekke)
VERONA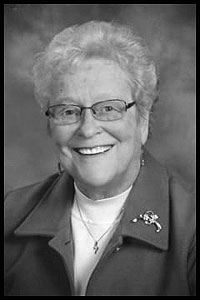 Audrey June (Brekke) Kunstman passed away peacefully on January 27, 2023. She was born on June 21,1929 to Lars and Borghild Brekke and grew up on a farm near Deerfield and graduated from Deerfield High School. In 1947 she met Bob Kunstman, a young Navy vet, at a dance at Edwards Park and they later married on July 6, 1947. They settled in Verona and started their family. As the kids grew, Audrey worked at the Associated Physicians Verona office, and later for the Wisconsin DNR for 25+ years.

Audrey and Bob had several places on Lake Wisconsin, eventually retiring to a home in Merrimac, then moving to a condo in Okee. They were avid boaters and snowmobilers, and had friends who were very close for many years. The stories of their antics will live on for years. Many laughs and lots of love. Audrey was a fabulous cook and welcoming hostess who loved to entertain. She was a woman of strong faith who was very active in her church until her health started to decline. She sang in the St James choir for many years. She was a member of the 8 O'Clock Callers, a circle of close friends who played euchre every month for 70 years, and was also a member of the American Legion Auxiliary for 75 years. Audrey and Bob were married for 60 years. After his passing, she developed a close friendship with Keith Simmons and they had many wonderful times and travels together. Audrey was a proud Norwegian and enjoyed two trips back to Norway to reconnect with relatives there. Her last trip back was shared with her daughter and granddaughter, and they made memories that would last a lifetime.

She was our mother, Granny, and Great-Granny, our matriarch, a kind and loving lady. She is survived by her son, Tom (Vikki) Kunstman, daughter Karen (Vince) Weiland, grandchildren Erin (Derrick) Ellefson, Ben (Vicky) Weiland, and Jonathan (April) Kunstman. She is further survived by great grandchildren Mackenzie, Teagan, Mason, Xander, Lilliana, Torsten and Audrey Jean. She is also survived by several nephews and a niece.

She was preceded in death by her parents, siblings Dale and Marian, husband Bob, special friend Keith, and granddaughter Lisa Marie.

The family would like to send special thanks to Dr. Amy Fothergill and the nursing staff at Associated Physicians, and to Ingleside and Agrace Hospice for the kind and heartfelt care given to Mom in her final days.

In lieu of flowers, the family requests memorials be made to St. James Lutheran Church, Agrace Hospice, 5395 E. Cheryl Parkway, Madison, Wi 53711, American Legion Auxiliary, Unit 385, 205 Thompson Street, Verona 53593, or a charity of your choice.

Her funeral service will be held at 11:00 AM on Saturday, February 4, 2023 at St. James Lutheran Church, 427 S. Main Street, Verona. A visitation will be held from 9:30 AM until time of service on Saturday at the church.

Mange tusen takk, Mom. Skol, Audrey!


Ryan Funeral Home & Cremation Services
Verona Chapel
220 Enterprise Drive
608-845-6625
Zitske, Bonnie Lee
SUN PRAIRIE
Bonnie Lee Zitske passed away peacefully at home after a courageous battle with cancer on Jan. 10, 2023.

She was born on Sept. 20, 1942, in Madison, Wis. She was a 1960 graduate of Madison Central High School and worked for the State of Wisconsin for over 40 years. At DNR, Bonnie worked in the Water Division.

Bonnie was a force to all that knew her with her inquisitive mind, caring nature, and independent spirit. You could always count on finding her cozied up in her sunroom with a good book, cuddling with her beloved cat, Izzy. She cherished her many lunches with her friend, Karen, as well as the Sun Prairie ladies.

The family is so thankful that she was surrounded by her loved ones in her last hours and she was able to meet her great-grandson for the first time. We will forever remember her with the smile that graced her face in those moments.

Bonnie is survived by two children, Tracy (Dan) Goodman and Mike (Rachelle) Zitske; her four grandchildren, Cameron and Kara Goodman, Alex (Haley) Zitske and Samantha (Danny) Zitske, their mother, Wendi Zitske; and two great-grandchildren.

The family would like to thank Agrace Hospice for their guidance and endless support.

A family celebration of life will be held at a later date. We are honoring Bonnie's wishes and no services will be held.

Online condolences may be made at www.gundersonfh.com


Gunderson East
Funeral & Cremation Care
5203 Monona Drive
(608) 221-5420